Printed carrier bags
We are a division of Polybags Ltd. and we offer colour printing of poly carrier bags. This can be useful to promote and advertise your company image or product. Printing really gives a professional look to your packaging. Complete the printed carrier bags form and get a free quotation for your design! Otherwise you may check on Polybags stocked carrier bags for a big range of choices.
Here you will find out about some of the carriers that Polybags produce.
Punched Handle Carrier Bags

Punched Handle Carrier Bags are made from a variguage polythene, variguage means that the top of the bag is thicker than the bottom as the strength needs to be in the handle. The handle of the bag is punched out of the polythene making these a stylish and comfortable bag to carry, they are the common choice for exhibitions and retail stores. The punched handle carrier bag come in various colours and can be printed with your logo or up to full colour.
Flexi-Loop Carrier Bags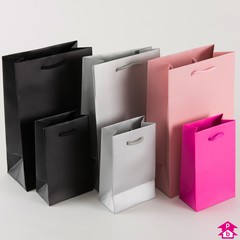 Flexi Loop Carrier Bags are commonly used by high end retailers; electrical, fashion, publications, art galleries and airlines. Similar to a punched out handle, however with a flexi loop handle welded to the wall, consequently allowing full use of volume, also available in double fold open version for a rigid characteristic with additional strength.
Vest Carrier Bags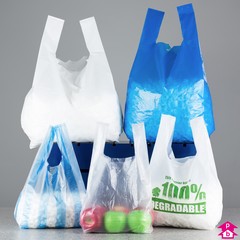 Vest Carrier Bags are normally made from crisp high density polythene. Their shape when laid flat on the table gives them the description of a 'vest' carrier. Suitable for retail and market stall use. They are not suitable for direct food use as they will give a slight 'recycled' aroma to them. Small vest carrier can be used for carrying bottles or cans. Ideal in wine merchants or off license use. Varying in size to accommodate anything from wrap rolls to duvets and pillows. Printed vest carrier for use in butchers, fish and chip shops, pet shops, etc.
Coloured Polythene Mailing Envelopes
Coloured Polythene Mailing Envelopes come in a range of white, silver and black coloured plastic mailing envelopes in standard iso sizes C5 and C4. Coloured mailing envelopes can be manufactured to suit your own needs with different colours and printed.
Coloured Mailing Despatch Bags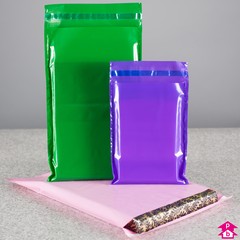 Coloured Mailing Despatch Bags. Select from a number of shiny coloured plastic mailing despatch bags for posting your producta. These can also be custom made to your needs with good range of colours to choose from.
Coloured 100% Recycled Sacks

Coloured 100% Recycled Sacks. These are medium duty coloured recycled sacks manufactured from 100% recycled polythene. Available in green, blue, red, white or yellow with no extra charges. Perfect when selecting different types of waste.
All the information presented here and more can also be found at Packagingknowledge.com carrier bags section.
And if this is not enough you might want to visit one of our carrier bags web pages.